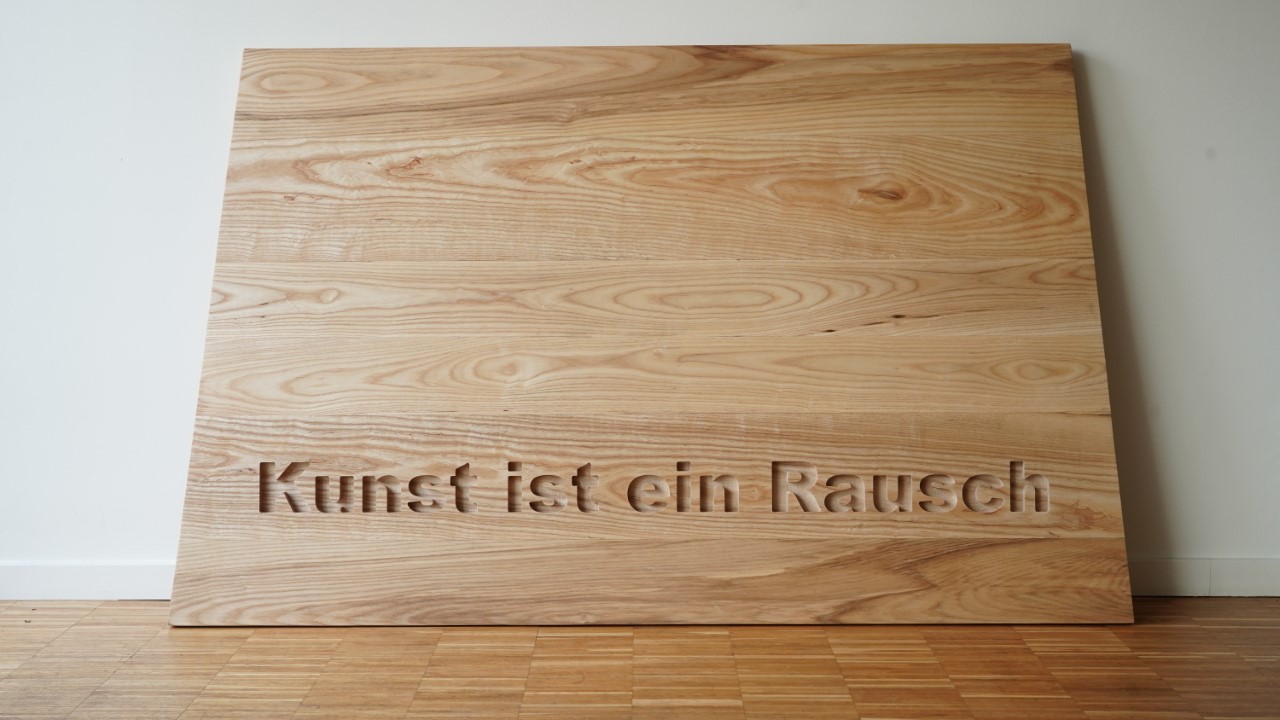 Kunst ist ein Rausch 
« Kunst ist ein Rausch », brutal eingraviert auf das 1.62 m breite, 1m hohe und 29 kg.schwere Trapez aus Eschenholz, ist ein Andenken an Zizi Rincoliskys Begegegnungen mit dem verstorbenen Künstler Martin Kippenberger . Dieser Satz, den er ihr während ihres gemeinsamen Zuges durch die Kneipen von Dublin und Sydney vier Jahre vor seinem Tod anvertraute, ist ihr unvergesslich geblieben. Es geht ihr hierbei um die Darstellung starker Emotionen, dem Rausch der Nähe und seiner Unmöglichkeit, vom Begehren und dessen Ernüchterung. Martin Kippenberger, der nicht auf den Rausch verzichten wollte, obwohl ihm bewusst war, dass er es war, der ihn unter die Erde bringen wird.
Art is an intoxication
brutally engraved on the ash wood trapeze, which is 1.62 m wide, 1 m high and weighs 29 kg, is a memory of Zizi Rincolisky's encounters with the late artist Martin Kippenberger. This phrase, which he confided to her during their joint rides through the pubs of Dublin and Sydney four years before his death, has remained unforgettable for her. This particular encounter represented strong emotions, the exhilaration of closeness and its impossibility, desire and its disenchantment. Martin Kippenberger did not want to give up on intoxication, even though he was aware that it was the thing that put him in the ground.
« Kunst ist ein Rausch » ("L'art est une ivresse")
brutalement gravé sur le trapèze en bois de frêne de 1,62 m de large, 1 m de haut et pèse 29 kg, est un souvenir des rencontres de Zizi Rincolisky avec le regretté artiste Martin Kippenberger. Cette phrase, qu'il lui a confiée pendant leurs promenades/ virées/ tournées communes dans les pubs de Dublin et de Sydney quatre ans avant sa mort, est restée inoubliable pour elle. Il s'agit pour elle de représenter des émotions fortes, l'ivresse de cette proximité et son impossibilité, le désir et son désenchantement.